Bracelet Stacking
You have never been able to decide on a single bracelet? Then you shouldn't miss this trend!
The trendy layering style can not only be used on your favorite necklaces - bracelet stacking is perfect for showcasing your favorite bracelets. New to the Stacking Game? Then get inspired by this blog post and combine your bracelets like a pro!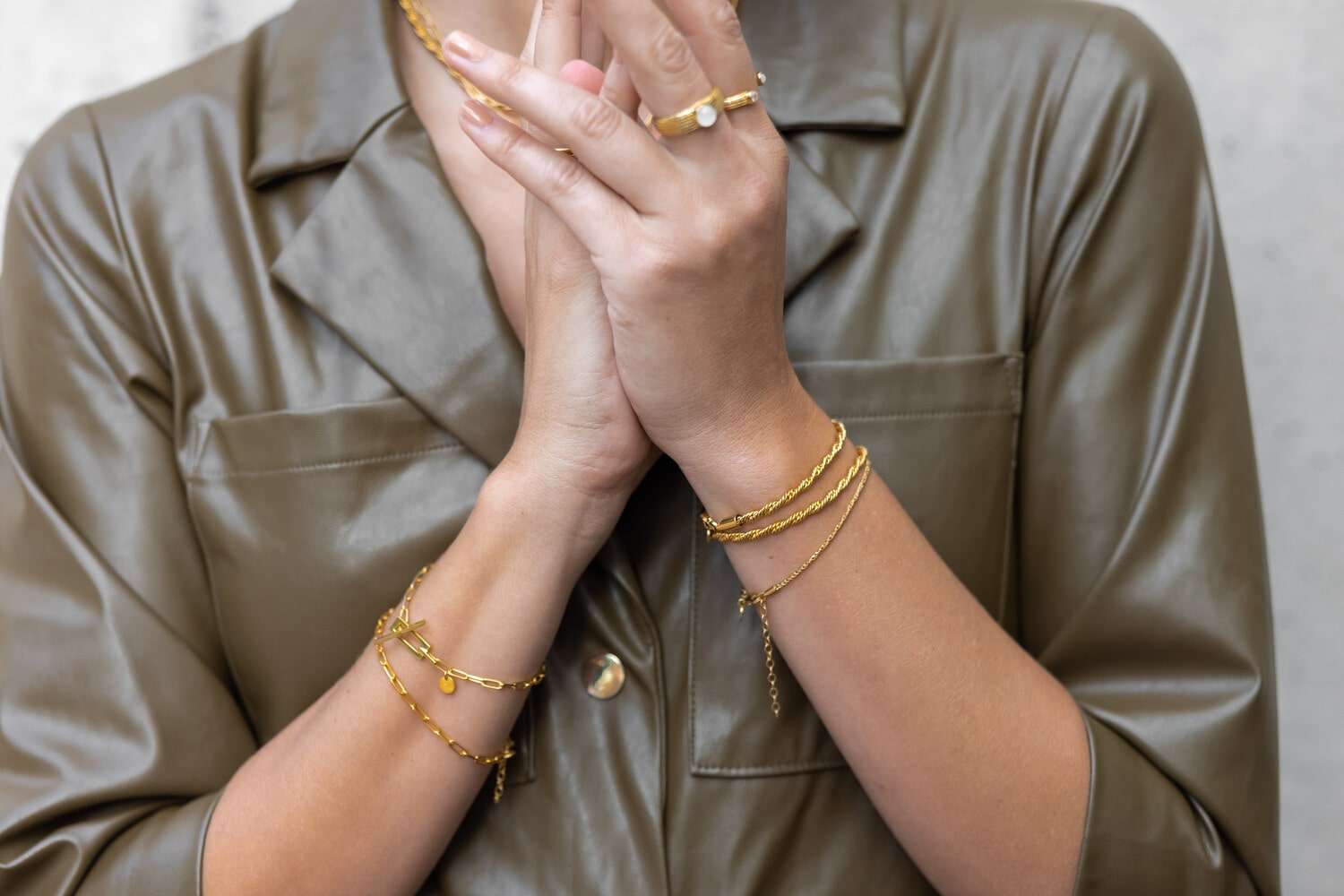 What is bracelet stacking?
Stacking bracelets and bangles has been an absolute trend for a long time and JULIE & GRACE can no longer be imagined without it. Bracelet stacking can be adapted to any lifestyle and dress code: a well-matched bracelet stack can transform a plain outfit into something that always looks up-to-date and stylish. If you like it a little more daring, then the new bracelet combo can transform your everyday look into a look suitable for the evening in no time at all.
Whether filigree or statement - the decision as to which bracelets or bangles you choose is entirely up to you. It is important to understand that any bracelet lends itself to this trend, you just need to know how to combine them correctly.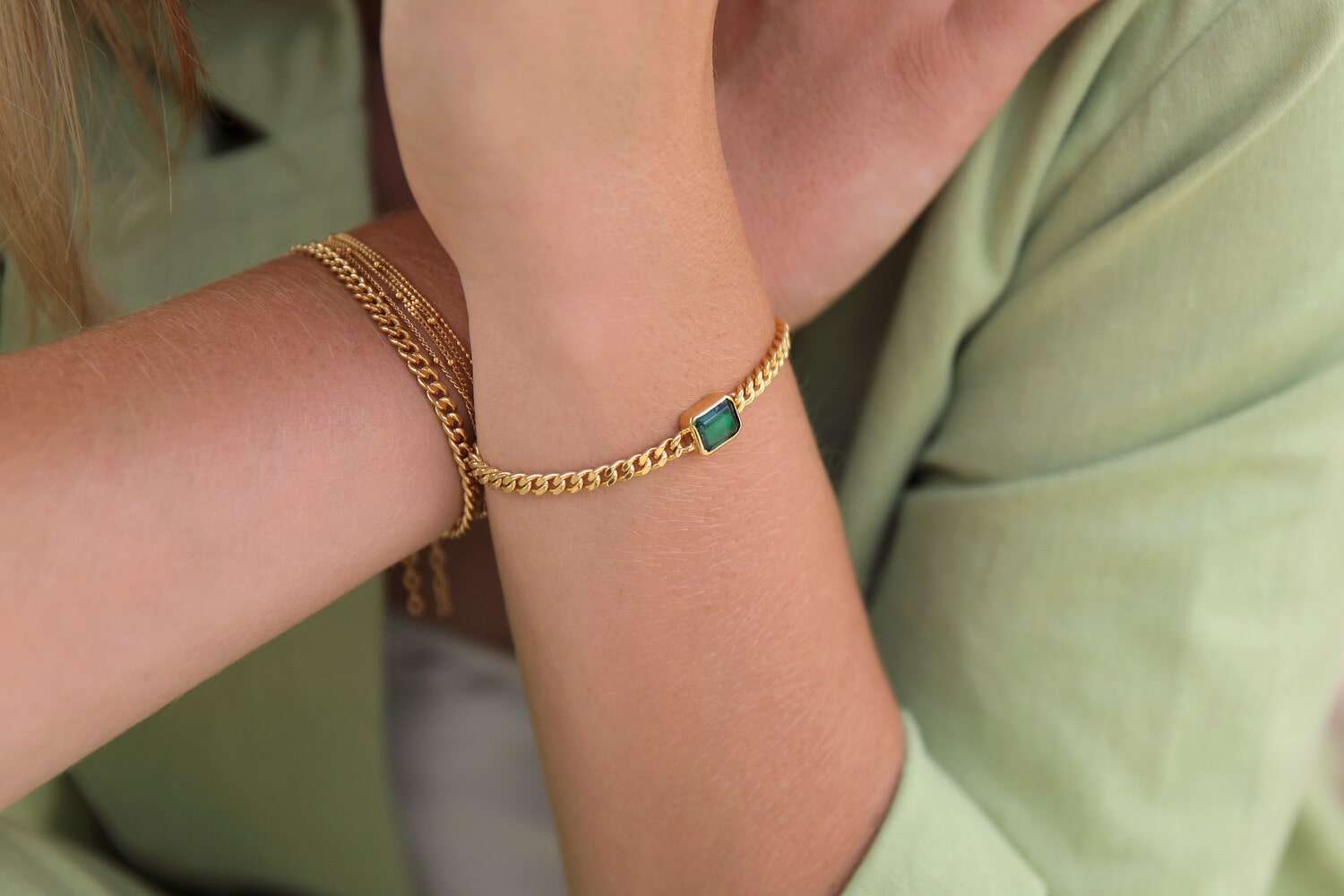 5 tips to make your stacking a success
Not sure how to combine your bracelets? There are no hard and fast rules when it comes to bracelet stacking, but we have a few tips and ideas for you to try this season. Your new bracelet stack will be a real eye-catcher!
Focus point
To make stacking as easy as possible for you, we recommend choosing a key piece around which you can then create your look. Your favorite bracelet is suitable for this, for example. You just have to make sure that this piece of jewelery stands out on your arm and can be used as an eye-catcher.
Mix&Match
Try pairing a chunky chain bracelet or bangle with a finer bracelet to play with the layers of your stack. Several statement bracelets or bangles next to each other can be "too much" - instead choose an eye-catching bracelet and combine something simple in between. This way you ensure a good balance and beautiful contrasts!
Balance is key
There is no perfect number for your bracelet stack, but we recommend that you choose at least 3 of your favorite pieces of jewelry. An odd number of bracelets generally looks a little more effortless, but it's entirely up to you how many bracelets you want to combine. If possible, make sure that no more than a third of your forearm is covered.
Pop of Color
With color accents, you can easily turn your bracelet stacking into a real highlight, especially for the coming summer days. Whether colorful pearls or unique gemstones - individuality is the keyword here too! It should be noted that when playing with colors you have your outfit in mind and coordinate the colors with each other.
mixed metals
Different structures and metals should not be missing from your arm either. A combination of gold and silver bracelets in connection with different textures give the look a visual contrast and provide the necessary dimension for your bracelet stack.
3 bracelet combinations for more inspiration
Gold Stacking - Sparkling meets Astro
If you want to create a simple yet glamorous bracelet stack - then gold jewelry is the right choice for you.
You can combine this glamorous stack of bracelets in the trendy Astro look with the Astro | Crystal (White) paired with a sparkling tennis bracelet | Create crystal (white) and the simple bangle ball . All pieces of jewelry are made of high-quality gold-plated 925 sterling silver and give your outfit a heavenly touch!
Mixed Stacking - Gold with Silver
Are you a fan of bi-color? Then you should definitely not do without the combination of gold and silver in your next bracelet stacking!
You can achieve a simple geo look on your arm with our circle bangle in combination with the silver cord link bracelet and the gold-plated cord link bracelet . This trendy mix of gold and silver jewelery creates exciting contrasts on your arm and is a must-have this season!
Silver Stacking - Chunky Chic
Are you more into the cool vibe? Then casual bracelet combinations in silver are just right for you!
An absolute must-have for this chunky look are coarse link bracelets, such as our Chunky bracelet and the link bracelet made of the finest 925 sterling silver. To round off your bracelet stack perfectly, you can add this simple bangle classic . This cool bracelet combination makes each of your outfits a real eye-catcher!
Are you ready to create your personal bracelet combination? Then take a look around our shop and discover our unique selection of bracelets and bangles.

BY SOPHIE